Preis: 15,00€/Stück, zzgl. 3,--€ Versand pro Bestellung.
Die Titel auf dieser CD sind alle mit großer Liebe zu den historischen Vorbildern ausgewählt. Dazu zählen die großen, heute oft völlig zu Unrecht fast vergessenen Künstler der Zwanziger Jahre.
Zur Website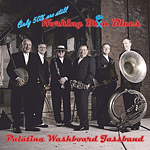 Inhalt:
Working Man Blues
Mandy, Make Up Your Mind
Someday Sweetheart
Come Back Sweet Papa
Big Brasshorn Blues
Buddy's Habits
Roses Of Picardy
Of All The Wrongs You've Done To
Madame Bécassine
Tin Roof Blues
Mabel's Dream
Passport To Paradise
If You Knew Susie
Ain't She Sweet
When It's Sleepy Time Down South
auch als Download / Streaming...